Money As You Grow – Resources for Parents and Caregivers
Dec. 6, 2019
By Maureen Busch, VP, Compliance and CRA Officer
Do you want to teach your child about finances, but don't know where to begin? Do you wonder about how to start money conversations that are age-appropriate?  The Consumer Financial Protection Bureau (CFPB) is a U.S. government agency that works to make consumer financial markets work for consumers, responsible providers, and the economy as a whole.  It also strives to empower and educate consumers - including parents, who have a lasting influence on how their children will navigate money choices in the future.
The CFPB performed extensive research with respect to the way children develop the abilities and attributes that contribute to financial well-being in adulthood. Based on this research, it created "Money as You Grow" activities and conversation starters to help children develop money skills, habits and attitudes that will serve them well as adults. The CFPB's Money as You Grow Bookshelf is an excellent resource parents and caregivers can use to get started reading and talking with children about money choices like saving, spending and more. There are 21 books written for children between the ages of four and 10, and the CFPB created accompanying guides for parents and caregivers to help you discuss the key ideas in each book. The guides are available to be downloaded at no cost.
The Money as You Grow Bookshelf lets you build on the time you may already be spending on reading together and helps you bring money topics to life through story time.
Here's an example. Remember the Berenstain Bears books by Stan and Jan Berenstain? Well, the CFPB has developed a Parent Reading Guide for two books in the series: "The Berenstain Bears' Trouble with Money" and "The Berenstain Bears & Mama's New Job."
Snippet of CFPB's Parent Reading Guide Information Page: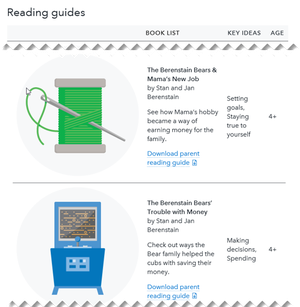 What about young children? While children ages three to five are usually too young to understand abstract financial concepts, the foundational skills they learn as children help them achieve financial well-being later. For example, even without discussing money, you can help foster fiscally responsible behavior by reinforcing that some things are worth waiting for. When your child is standing in line for a turn on the swings, or looking forward to his favorite holiday, point out that sometimes we have to wait for things we want.
Find out more about the CFPB's educational resources for children and young adults at: https://www.consumerfinance.gov/
A couple of direct links to CFPB "Money as You Grow" resources:
Help your young child reach money milestones (ages three to five): https://www.consumerfinance.gov/consumer-tools/money-as-you-grow/young-children/money-milestones/
Build your child's money skills while you read together (ages four to 10): https://www.consumerfinance.gov/consumer-tools/money-as-you-grow/bookshelf/
I am fortunate to see the work of the CFPB from a close vantage point. Currently, I serve on the CFPB's Community Bank Advisory Council, where Director Kathleen Kraninger and Bureau staff keep us abreast of educational resources available and financial literacy initiatives, such as Start Small, Save Up. The CFPB is passionate about encouraging consumers to create, maintain and grow savings accounts as part of their overall financial well-being. 
This article originally appeared on The Bank of Tampa's website. To read more about The Bank of Tampa, visit: thebankoftampa.com/news
Member FDIC