Start 2020 off with a Savings Plan
Jan. 7, 2020
By Maureen Busch, VP, Compliance and CRA Officer
Ah, January—the time of New Year's resolutions. For success in keeping your resolutions, make sure they are specific, measurable, achievable, relevant, and time-bound, according to a recent New York Times article by Harry Guinness. The article explains that most people make resolutions that are too vague to be useful or too hard to get done, so by February each year, approximately 80% of people making resolutions have abandoned them.
Before you set your financially related New Year's resolutions, I encourage you to take inventory of where you are on your journey toward financial well-being. Knowing where you stand today will help you set more realistic goals for yourself, thus increasing your chance of attaining them. 
What's the best way to perform such a self-assessment, you ask? A great place to start is with free resources available from the Consumer Financial Protection Bureau (CFPB or Bureau). For example, the CFPB has developed a short, but effective, 10-question quiz to help you measure your current financial well-being. No personal financial data is requested or collected, but the questions and your responses are effective in assessing your current level of financial well-being. For example, the first question simply asks, on a scale from "Not at all" to "Completely," whether you could handle a major, unexpected expense.
Financial Well-Being Quiz (Source: Consumer Financial Protection Bureau)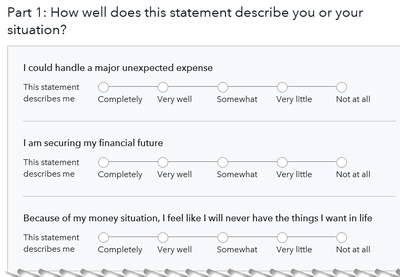 Upon completion of the quiz, the Bureau provides you with a Financial Well-Being Score, along with tips and resources on how you may further strengthen your financial well-being. The Bureau now also offers a long-term solution to keep you on track. Through the Bureau's Savings Boot Camp, over the course of a few weeks, you'll receive simple steps to implement that will help you reach your financial goals. 
To sign up for the Savings Boot Camp, you will need to provide an email address, but, like the financial well-being survey, the Bureau will not collect any personal information from you. These free resources are intended for you to use to help make you the best you can be!
Savings Boot Camp Registration (Source: Consumer Financial Protection Bureau)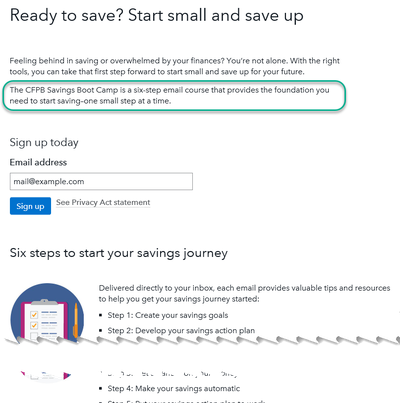 You can access the CFPB's Financial Well-Being quiz here: https://www.consumerfinance.gov/consumer-tools/financial-well-being/
You can enroll in the CFPB's Savings Boot Camp here: https://www.consumerfinance.gov/start-small-save-up/cfpb-savings-boot-camp/
Go ahead and get 2020 off to a great start, but in a specific, measurable, achievable, relevant, and time-bound way! J
About the Author:
Maureen Busch serves as the Vice President, Compliance and CRA Officer at The Bank of Tampa. Additionally, she serves on the CFPB's Community Bank Advisory Council, where Director Kathleen Kraninger and Bureau staff keep the council abreast of educational resources available and financial literacy initiatives, such as Start Small, Save Up. The CFPB is passionate about encouraging consumers to create, maintain and grow savings accounts as part of their overall financial well-being. 
This article originally appeared on The Bank of Tampa's website. To read more about The Bank of Tampa, visit: thebankoftampa.com/news
Member FDIC