Tampa Bay Times Names The Bank of Tampa a Winner of the Tampa Bay Area Top Workplaces 2021 Award
March 29, 2021
TAMPA, Fla., March 29, 2021 – The Bank of Tampa today announced it has been awarded a 2021 Top Workplaces honor by Tampa Bay Times. The Top Workplaces list is based solely on employee feedback gathered through a third-party survey administered by Energage LLC, an employee engagement technology partner.
"We are honored to receive a spot on the Tampa Bay Times Top Workplaces list. Our culture and employees are at the very foundation of our organization, and this honor is a direct testament to our incredible team, especially during a year when so much unexpected change occurred. We are looking ahead to a bright future, and we will continue our commitment to the best practices that make our employees proud to be part of The Bank of Tampa team," said Chief Executive Officer, Bill West and President, Corey Neil, in a joint statement.
The anonymous survey uniquely measures 15 culture drivers that are critical to the success of any organization including, alignment, execution and connection, leadership, compensation and training, workplace flexibility and diversity. For 2021, 100 employers earned recognition as Top Workplaces, and The Bank of Tampa ranks 12th among mid-sized companies.
For a complete list of the 2021 Top Workplaces in Tampa Bay, visit: https://www.tampabay.com/news/business/2021/03/26/tampa-bays-top-midsize-workplaces-in-2021/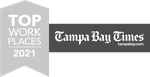 About The Bank of Tampa
The Bank of Tampa is one of the largest community banks in the Tampa Bay area. It has been privately held by its employees, directors and clients since the bank's inception in 1984. It has offices in Hillsborough, Pinellas and Sarasota counties and a loan production office in Plant City and Pasco County. The Bank of Tampa's assets total more than $2.6 billion, with outstanding loans greater than $1.5 billion. Its wealth management practice has more than $1 billion total assets under care. To learn more, visit www.thebankoftampa.com, or follow us on Facebook, Instagram, LinkedIn and Twitter.
Media Contact:
Kaley E. Infield, APR
(813) 998-2646
kinfield@bankoftampa.com